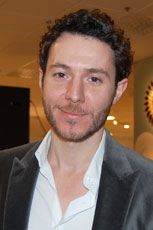 Mr. Pavlo Schtakleff
, from the interior design company Sé that started 3 years ago. The concept behind it is that we wanted to start a new brand where we wanted to allow designers in order to create a full range of pieces. And we felt that there was a need for something new in the market; something different but at a high level in terms of production. We are very small in terms of the level of quantity of pieces of what we produce but allowing the designer to have a complete freedom to produce between 10 or 20 pieces.
We try to work with steel or bronze, ceramics, etc. We try to find materials that are not commonly used and join them together. Sometimes you play with wood and ceramic, other times with bronze and steel etc.
In 2008 the company launched its first collection and we recently launched our second collection with Jaime Hayón in London Design Festival last September.
I've been selling furniture in London and in the US. So when I came back to Britain, I tried to start up a company that did not work but then I had the opportunity to work with an investor who believed in this idea that I had: to start sell a new luxury brand.
If you look up at the first and second collection, there is obviously a similarity in some of the shapes and forms. Then on each time, we work with the designers giving them as much freedom as possible and try to fulfill the designs to the maximum. At the beginning, we start to work with what they have in mind which obviously is not always what we need.
We work very much hand-in-hand with the manufacturer. Because I think that in the end of the day, they are the key. These people work incredible hard with really special pieces. We try to develop relationship with smaller organization of production. Many of them are based in France. We prefer to work with small craftsmen but it's also about promoting the craftsmen behind. Because without them in the end of the day, we wouldn't be able to set the pieces that we see.
The dialog between manufacturer and designer is really important. We try to promote it as much as possible. Because if we don´t work with them, they are going to fade away and they are part of our heritage and history.
Cocktail Life:
Where about do you live in London and what places do you recommend to visit?
I live in South West London in a place call Battersea which is quite young area. It's very much a pub culture and there are lot of different bars around and Clapham as well. My favorite area is Short end and the East end where you have hundreds of different restaurants but one of my favorites is Saint John's (near Spitalfields market) with very English food. This is one of the places that I definitely would recommend to visit.
Very close to there is a very cool market called the Truman Bur. On Sunday's they have street food which is becoming very popular.
Cocktail Life:
What do you like to have for drink?
I like Whisky, bourbons, Maker's Mark, Japanese whisky is something I'm getting into a lot.
Cocktail Life
: Would you like to add something?
I like everything that is a bit challenging. That's why I like to live in London because is a city which is always on the move with so many things going on.